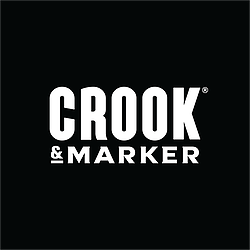 Function
Sales
Experience
Mid-Level
Type
Full Time
About The Position
What is Crook & Marker?
People want to have a good time without feeling guilty about what they're drinking. At last, that's possible with Crook & Marker, the only spiked and sparkling beverages of their kind: Zero sugar. Made with organic alcohol. Overflowing with bold, refreshing flavor.


Our goal is to redefine the alcohol beverage space. People want refreshment, taste and variety without compromising enjoyment – and we have what they're seeking.


We're looking for people with tremendous growth potential to help chart a historic journey. We want dreamers who have the talent, passion and desire to drive change in our industry and empower consumers to enjoy a better tomorrow. We seek the future leaders of our company who will someday look back with pride on our cherished early years when we rewrote the story of our industry. 


We want to give the right person the honor of joining us so we can charge toward our envisioned future together. Visit
www.crookandmarker.com
for more information about us.
Who Are We Looking For?

We're seeking an exceptionally talented and driven District Sales Manager. This is an extraordinary opportunity to join a world-class team.


What are the Key Responsibilities?


In this critical role, you will be responsible for the following:

Be a proud ambassador for Crook & Marker and embody the culture and values of our company
Collaborate and align with distributor senior management and the Zone Director
Customize sales pitches to achieve district goals while driving effective, permanent displays
Develop accurate and timely sales forecasts
Train and develop staff on required training's
Occasionally manage customer invoicing, billbacks and/or scan backs
Recommend key account prices in line with Crook & Marker pricing guidelines and stay on top of future retail price plans 
What Do You Need to be Considered?
Bachelor's degree preferred
3-5 years of professional experience 
Previous sales management in the alcohol beverage space preferred
Category management experience
Strong organizational and multitasking skills
Ability to travel and work flexible hours as needed
Excellent communication, presentation, organizational and multitasking skills
Strong analytical and planning skills
Proficiency with Microsoft Word, Excel and PowerPoint
Builder's mentality and desire to work with a dynamic early-stage company
Extreme attention to detail
Team-focused, ego-free, can-do attitude and a warm, and professional demeanor
84637835-9875-4075-8dfc-2a3b4b3ca5ca